Professional Assessment for Specific Back Treatment.

Accurate, easy, fast and free from radiation.
More than 3000 clinics, physicians, therapists and health centres worldwide already use the SpinalMouse®.
Advantages of the Spinal Mouse
The SpinalMouse® is a new and compact measuring device allowing computer assisted analysis and display of the spinal cord's shape and mobility in the sagittal and frontal planes. It surpasses most "traditional" methods in its precision, relevance and clarity of display, at an optimal cost/benefit ratio. It is both practitioner and patient friendly, non invasive, and completely free from radiation.
Easy, reliable and accurate measurement
The SpinalMouse® measuring head is guided along the spinal column, automatically adjusting itself to the contours of the back. The relevant clinical data is then wirelessly transferred to a personal computer or laptop.
Precise data on vertebral column geometry
The excellent reliability and high degree of validity of the data in comparison with X-ray images has been proven repeatedly in scientific tests. With SpinalMouse(r) any desired number of measurements can be tracked for each patient and changes during the course of treatment become apparent.
Transparent and simple patient information
Systematic measurement of the spinal column is a reflection of professionally administered therapy. Simple and easy to understand graphics provide a basis for informing the patient. Regularly repeated measurements underline the patient's progress.
Professional documentation at the press of a button
All data is saved during the course of treatment which means that detailed documentation can be prepared at any time for colleagues, health insurance organisations and others. Any necessary therapy or treatment can therefore be clearly and objectively justified.
Exercises to supplement back training
The software includes a range of exercises for effective back training. These exercises will be specifically adapted for the individual patient after the measurement data has been evaluated.
The measurement process
It is easy to maximise added value.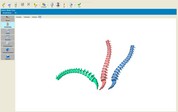 SpinalMouse® measurements are highly relevant and reliable, e.g. for:
Posture and mobility assessment in clinical and therapeutic environments
Quality assurance during therapy
Comparative screeni
Findings:
Posture

Kyphosis (BWS curvature)
Lordosis (LWS curvature)
Pelvic positioning (tilt or stretch)
Segmental angles
Dorsal length
frontal plane (Scoliosis)
Mobility
range of motion from flexion to extension
range of motion from upright to flexion
range of motion from upright to extension
lateral inclinations
Segmental mobility
Other
Interpretation of measurements for training purposes
Exercise catalog and training schedule
measurement modelled on Matthiass Test
Database consolidation across patients
Versatile printing and data export capability
Typical fields of usage
Physiotherapy and rehabilitation training
Manual therapy and chiropractics
Orthopaedics
Rheumatology
Neurology
Preventive medicine
Health care at school and at work
Ergonomics, Occupational medicine
Osteopathy
Health, fitness and wellness centres
Typical applications
Generation of back specific findings
Reporting on therapeutic progress
Quality assurance
Disease prevention (e.g. in schools and industrial environments)
For more info and price email info@pharmalight.se