Reach new peaks with SpiroTiger®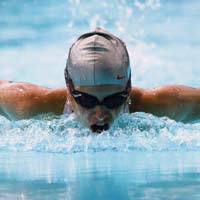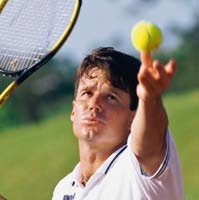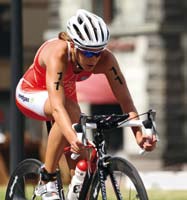 All athletes train hard. If they want to secure a decisive advantage, however, they have to break new ground. Respiratory training with SpiroTiger® offers them unique opportunities. Respiratory training with SpiroTiger® creates new reserves of energy because, in addition to providing endurance training for the respiratory muscles, it has a beneficial effect on your whole physical performance. This is what makes respiratory training with SpiroTiger® so valuable for athletes of all levels, not only for professionals and competitive athletes but also for recreational sportsmen and women and fitness fans. With SpiroTiger®, you can train your respiratory muscles continuously without the dizziness that occurs with other equipment. This is made possible by SpiroTiger®'s intelligent, personalised respiration management system. That's how, with just a little training, SpiroTiger® can smooth the way to new personal bests: more power, greater endurance and increased fitness, higher peaks of performance, better breathing and shorter recovery times. More and more athletes rely on respiratory training with SpiroTiger®. When are you going to start training?
Athlete References
SpiroTiger® respiratory training has helped many professional athletes significantly enhance their results. They were able to clearly demonstrate improvements in physical performance, often lifting them on to the winners' platform.
SpiroTiger® is a compact, lightweight respiratory trainer for athletes that comes in two versions: SpiroTiger® STGO for beginners and SpiroTiger®st SMART for the more advanced, with a PC connection and software for sending training data to a computer. This makes it easy to monitor and keep track of your training on the computer. SpiroTiger® consists of a detachable mouthpiece and air-guiding parts, a customised breathing bag and a screen with a control panel for monitoring your training and setting your personal parameters. For maximum hygiene, all parts through which air passes can be removed and easily cleaned.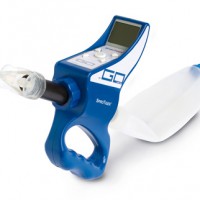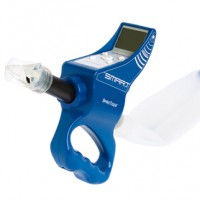 As a professional athlete, you can gain a decisive advantage. Get ahead in competitions. As an amateur, you can substantially increase your performance. Or just give your general fitness a boost. Respiratory training with SpiroTiger® is worth your while whatever your sport.
Training with SpiroTiger® is easy. First, enter your personal parameters on the control panel of the Spiro-Tiger®. Then press Start and listen to the acoustic signals which tell you when to breathe in and out, or watch the display: finish breathing out at the first beep, finish breathing in at the second beep. Experience shows that it takes only 2 to 3 training sessions of 5 minutes to get used to the breathing rhythm. Training with SpiroTiger® can be adjusted to suit your individual circumstances based on your personal respiratory volume, breathing rate and training time. Because the breathing bags come in different sizes and you can enter your personal breathing rate, SpiroTiger® can be perfectly adjusted to suit the size of your lungs and your capabilities. Your training data is displayed live on the clear screen but can also be saved for later analysis. This makes it easy to monitor your training closely and make sure it is optimised at all times.
Respiratory training using SpiroTiger® STGO or st SMART concentrates on strengthening the respiratory muscles, but it also has beneficial effects on physical performance in general. It creates new reserves of energy which are good for both endurance and for giving short bursts of power. Underpinning this training benefit is the close connection between breathing and general performance: as the respiratory muscles tire, the flow of blood to the extremities can be reduced, having a negative effect on circulation in the arm and leg muscles. This can result in heavy limbs (similar to aching muscles), excessive blood lactates and a reduction in performance. Respiratory training with SpiroTiger® counteracts these negative effects by delaying the point at which the respiratory muscles become tired, and so maintaining the circulation in the arms and legs at optimum levels for longer. In other words: as a result of training with SpiroTiger®, the respiratory muscles work more efficiently and consume less oxygen, leaving more oxygen for the muscles in the arms and legs. The result is improved endurance and competitiveness, optimised, efficient breathing and generally enhanced fitness.
Why respiratory training?
Boost your performance level to the utmost.
Amongst all vital skeletal muscle groups only the respiratory system is active at all times. This is an extraordinary feat of endurance. However, during sporting activity, the respiratory muscles can tire, having a detrimental effect on sporting performance as Prof. Boutellier, sports physiologist at ETH and the University of Zurich, has proved quite conclusively. Endurance training (e.g. jogging, cycling), however, is generally not enough to counteract this effect. Normal endurance training does not train the respiration sufficiently. These muscles require targeted and regular exercise. Surprising finding: respiratory muscle training also improves over all fitness.
As part of a controlled experiment, groups of 38 untrained candidates had the option of engaging in 40 standard endurance training sessions (jogging, cycling), 40 respiratory training exercise sessions (SpiroTiger®), or no physical intervention at all. The SpiroTiger® group significantly improved both its respiratory and exercise performance. The first did not enhance its respiratory capacity at all. Therefore, by using the SpiroTiger® people could improve their physical performance without additional cycling or jogging training. The explanation for this surprising effect is that both the respiratory muscles and the arm and leg muscles draw their energy and oxygen from the same source: the body's blood supply. The less the respiratory muscles demand from the blood supply, because they tire more slowly and work more efficiently, the greater the proportion available to the arms and legs. The respiratory endurance training with SpiroTiger® makes use of this effect.
References: Matteo Tosetti, Bruno Martignoni and Igor Mijatovic (Fussball U17 Nationalmannschaft), Laurent Hagist (Konditionstrainer FC Basel), Andrea Clavadetscher (Extremsportler), Marc Christen (Inline Skating), Tino Kässner (behinderten Radsport), Fabio Schwarz (Eishockey), Gian und Flurin Randegger (Eishockey), Renato Schwarz (Eishockey), Diego Schwarzenbach (Eishockey), Patrick Fischer (Eishockey), Reto Hollenstein (Eisschnelllauf), Annette Beutler (Eisschnelllauf), Anita Kälin (Hallenradsport), Robert Nuck (Kanufahren), Reto Sutter (Langlauf), Ruth Baumann-Gmellin (Langlauf), David Zysset (Motocross), Timo Graf (Motocross), Florence Pillet (Motocross), Torsten Marx (Mountainbike), Joelle, Pascal und Dieter Schmutz (Mountainbike), Marco Schätzing (Mountainbike), Bärbel Jungmeier (Mountainbike), Daniel Federspiel (Mountainbike), Pascale Schnider (Radfahren Strasse), Stephanie Wiedner (Radfahren), Jennifer Hohl (Radfahren), Fabienne Heinzmann (Radfahren), Luca Fabian (Rudern), Roger Achermann (Rudern), Lukas Weber (Rudern), Dimitri Weitnauer (Rudern), Leandro Buchmann (Rudern), Anke Molkenthin (Rudern), Christoph Mohler (Schlagzeug), Cornel Züger (Ski Alpin), Michel Jaquet (Ski Alpin), Bianca Willi (Ski Alpin), Ami Oreiller (Ski Alpin), Rudolf Bueschlen (Sportklettern), Philipp Mauron (Schwimmen), Denise Demir (Teamärztin Phonak), Stefan Perg (Triathlon), Carol Flury (Thaiboxen)