PROVEN, POWERFUL, SAFE AND EFFECTIVE
Multi Radiance Super Pulsed Lasers use innovative technology to deliver light energy to tissue, which reduces pain and increases circulation.
Cascading Energy Effect™ Multi Radiance Super Pulsed Lasers combine three clinically proven wavelengths to create the Cascading Energy Effect™, allowing for deeper penetration and enhanced absorption of light.
Multi Radiance Medical's Veterinary Laser Therapy devices provide accelerated pain relief and healing. This safe and powerful technology is applied with a cordless hand-held applicator providing targeted Super Pulsed Laser light that stimulates cell regeneration. Throughout the world, cold Laser Therapy is used to relieve acute/chronic pain, back pain, carpal tunnel, arthritis pain, fibromyalgia, tennis elbow, muscle strain, bursitis, tendonitis, and other injuries in humans; now we're bridging the gap and offering safe and effective for all aspects of Veterinary care.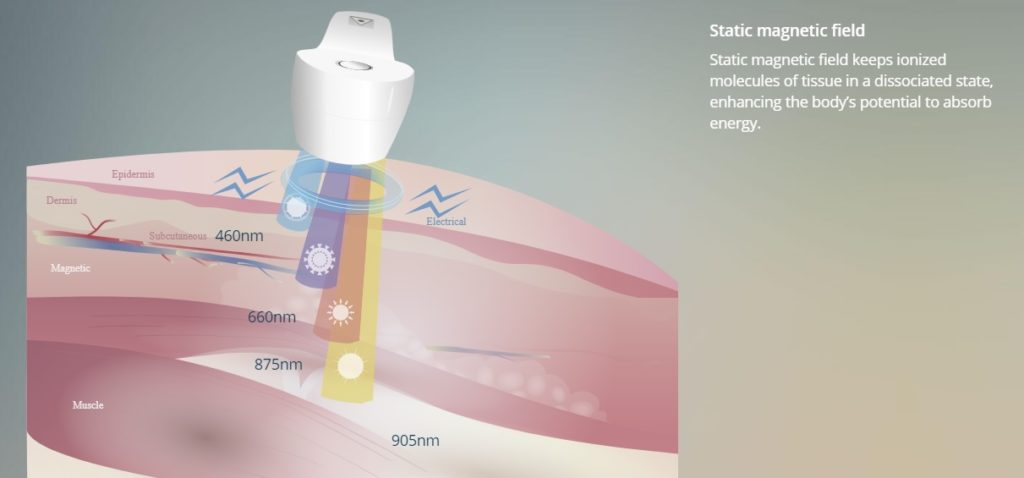 Multi Radiance Laser Therapy can be particularly helpful in reducing pain and enabling arthritic animals to be more active. It also is beneficial in managing wounds and dermatological abnormalities including hot spots, lick granulomas, otitis externa, pyoderma and healing of surgical incisions. If there is infection, blue light therapy can be used to reduce the bacterial load and minimize the need for anti-microbial therapy. Finally, Multi Radiance Laser Therapy can speed healing by decreasing pain and inflammation and promote blood flow to the affected areas.
OUR LASER ALSO TREATS THESE CONDITIONS:
Pododermatitis
Bursitis and tendonitis
Gingivitis, stomatitis and tooth extractions
Rodent ulcers and feline acne
Cystitis
Feline asthma
Rhinitis, sinusitis
Trauma
Hip dysplasia
Pyotraumatic dermatitis (hot spots)
Inflammatory bowel disease
Dermatomyositis
Tail fractures
Acupuncture
Some conditions will improve with one or two treatments, such as post-surgery and acute pain, while other conditions may require a series of visits over a few weeks, like lick granulomas and otitis.
Multi Radiance Medical Super Pulsed Laser technology has been validated in vitro, in vivo, in controlled laboratory experiments and in clinical practice. Our multiple wavelength technology has been clinically proven to provide optimal treatment, safe for all skin pigmentation, without raising skin temperatures to dangerous levels—unlike Class IV and Class 3B lasers.
SUPER PULSING IS KEY TO MULTI RADIANCE TECHNOLOGY
Super pulsed infrared laser (905 nm) GaAS is the essential component of Multi Radiance Medical technology. Multi Radiance Medical super pulsed lasers deliver billionths-of-a-second pulses, combined with up to 50,000 mW of peak power for a higher concentration of light energy, or photons, driven deeper into the target tissue without any risk of overheating.
Super pulsing allows for deeper penetration than a laser of the same wavelength that is not super pulsed but has the same average output power. This is because short pulses allow for quick absorption. In addition, the period between pulses promotes a better environment for optimal pain relief.

Super pulsed infrared laser penetrates deeply into target tissues and exerts powerful stimulating influences upon blood microcirculation. In general, laser diodes are either continuous wave or pulsed. The continuous wave diodes emit laser energy for the entire time they are electrically driven, hence the name. They provide a fixed level of power during emission. Super pulsed diodes emit a series (frequency) of radiation impulses with high amplitude in an extremely short duration (typically 100 to 200 nanoseconds). The mean output of power of a Multi Radiance Medical super pulsed laser will increase as the pulse repetition is increased.
Each impulse of the super pulsed laser produces high peak power delivered for a very brief duration. It is the high power level during each pulse that creates the energy density necessary to deliver adequate doses to the target tissue. Even though the pulse peaks at a high power level, there are no thermal effects in the tissue. Therefore, the peak power of a pulsed laser is high compared to its average output power. By using super pulsed lasers, one is able to more effectively deliver higher densities of light energy into the tissue without the associated deleterious thermal effects.
50W of peak Super Pulsed Laser Power
300% More total power than the original ACTIVet
900% More Blue Light
ACTIVet PRO™ is VALIDATED:
Multi Radiance technology has proven its technology works, without limitations!
ACTIVet PRO™ is OPTIMIZED:
The ACTIVet PRO™ has been optimized to safely deliver the most light to deep tissue and facilitate absorption
ACTIVet PRO™ is UNRIVALED:
In clinical studies, Super Pulsed Lasers beat Class IV Lasers in safety, controlling inflammation mitigating pain, infection control and wound care
The ACTIVet PRO™, a cordless, ultra-portable laser therapy system and successor to the ACTIVet™, sets a new standard for veterinary laser therapy. The synchronous use of high power Super Pulsed Laser (GaAs 905 nm), and ultra-bright infrared, red and blue LEDs (875 nm, 640 nm and 465 nm) optimizes the biological effects of the entire phototherapeutic window to accelerate healing and reduce pain.
---
ACTIVet PRO™ Features
50,000 mW of Super Pulsed Laser Power
300% More total power than the original ACTIVet
900% More Blue Light
---
The ACTIVet PRO™ provides a 300% increase in power over the previous model. An increase in power can shorten treatment times and provide powerful pain relief. However, unlike high powered Class IV lasers, the ACTIVet PRO increases power without the unwanted photothermal effect, avoiding the production of excessive ROS that can lead to photocytotoxicity and apoptosis. Laser, like ultrasound, at low levels, can stimulate while at higher levels it becomes destructive.
ACTIVet Pro™ Purchase Includes
ACTIVet PRO™ Emitter (50,000mW)
2 Pairs of Laser Goggles
Laser Carrying Case
Operating Manual & User's Guide DVD
Treatment Protocol Manual
Industry Best 3-year limited warranty
LaserPuncture Trigger Point Probes
For more information contact info@pharmalight.se or +46 702-58 53 54 or +46 704-55 48 22.