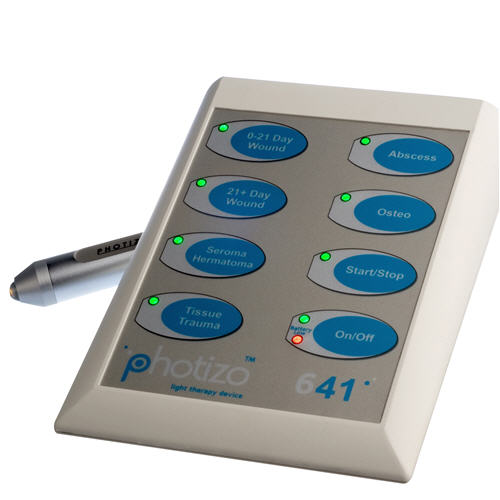 Treatment programs:
0 – 21 Day Wound
21+ Day Wound
Seroma Hematoma
Tissue Trauma
Abcess
Osteo
With the vet unit is included carrying case, 150 mW pen probe, battery (4 AA batteries), battery charger for the unit aswell as adaptor. Additional options are larger probes – 1200mW, belt bag, external battery for running two probes and glass rod for internal treatment.
0-21 Day Wound 
Use this program to treat:
Cuts, acute wounds, blisters, operation wounds / castration wounds, burns, cool ramp, superficial bruises, insect bites (reduces swelling and itching), skin grafts, swelling of the ear canal. Suitable for treatment immediately after surgery, as well as follow-up wound healing.
21+ Day Wound 
Use this program to treat:
Wounds that are 21 days or older: chronic; bedsores, eczema, infected wounds, ulcers.
Seroma hematoma
Use this program to treat:
Swellings, mastitis, edema, abscess.
Tissue Trauma 
Use this program to treat:
Suitable for treatment of spondylolisthesis:
Muscle injuries, tendon injuries, suspensory injury, peripheral nerve injury, inflammation of the soft tissues, fasciitis, trigger points, myalgia and muscle spasms.
Abcess 
Use this program to treat:
Infected areas, abscesses, "hot spots", gingivitis, mug, fungal hoof.
Osteo 
Use this program to treat:
Arthritis, cartilage injuries, fractures, protrusion, sinovitis, suspensory injuries, tendon injuries, joint infection, side Bones.
Case studies documented by veterinarians is found to the left under the tab case studies Photizo®.
For info about prices, payment or leasing send an email to info@pharmalight.se or click on this link to visit our webshop
For animal treatment for professionals we recommend our special package: Photizo 641 incl. 150 mW probe and 1200mW probe, large external battery and the hip bag. The hip bag and external battery for usage of two probes – 4 500 mAh – gives you the opportunity tho move free during treatment.